They say that everyone has a little Irish in them on St. Patrick's Day and it must be true based on how many "Kiss Me! I'm Irish" buttons I see. Part of the fun of observing holidays is the anticipation and preparation that goes along with them. Thankfully, there are a lot of simple ways to participate in celebrating St. Patrick's Day. Check out these craft ideas from Wisconsin Virtual Learning.
Fruity Rainbow
Easy for everyone, helps children learn to identify colors, increases dexterity and can also count as snack time (Hint: use marshmallows instead of cotton balls and drop the glue!).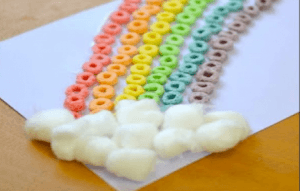 SUPPLIES:
Brightly colored cereal loops
Cotton balls
Glue
Gold and black glitter
Construction paper
Scissors
Dip some cotton balls in glue, then sprinkle glitter on them and let them dry. Draw glue in a rainbow shape as guidelines for the colored cereal. For older children, have them draw the lines and label the colors for more of a challenge.
Attach plain, white cotton balls to the bottom of one side of the rainbow for clouds and glittery ones on the other side for the pot of gold at the end of the rainbow.
Shimmery Shamrock Suncatcher

SUPPLIES:
Coffee filters
Washable markers
Spray bottle (water)
Construction paper
Glue
Scissors
This is another craft that grows with your child. They can start out with the basics of coloring and developing small-motor skills and end up using large-motor skills for cutting.
Using brightly colored washable markers (try the scented ones for a fun touch), color the coffee filters, then lay them flat. Spray them lightly with water until the colors run and allow to dry. Cut the shape of a shamrock out of the construction paper, then cut the inside of that to make a shamrock frame.
Place the coffee filter so that the colors show through the frame and glue it down, then trim any excess coffee filter from the edges. It's ready to hang in the window!